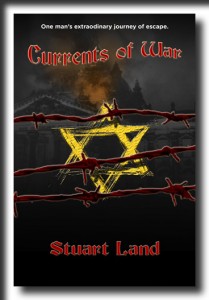 CURRENTS OF WAR is my new (WIP) work-in-progress novel. It's a story about a German Jew growing up in the Weimar Republic and pre-war Nazi Germany, and his eventual incredible journey of escape. This isn't a story about soldiers at war, but of normal people caught up in the throws of war, of fear, courage, and survival.
The aspects of this story are true. Most people don't know about, or understand what civilians had to go through to achieve freedom. It's not the Hollywood version of World War Two, or Nazi concentration camps, but about the tragic realities that insinuated into the psyche of every nation. War makes strange bedfellows, and none is stranger than where many Jews found safety while the world around them burned.
Originally, the account of this story was based on one person told to me over 20 years ago.  The copyright is owned jointly by the original narrator and me. However, after more than a year of writing, the family (the narrator had since died) decided they no longer wanted their relative's story to be told in the manner I had intended. Naturally, this is their heartfelt decision. Having known all along that I had been writing based on my experiences doing many interviews with this person, and upon their initial approval, they decided that I could use the basic elements of the story (which are locations in the world that many people had taken part in, including other books and movies), but to change all the names and references to anyone they would know. So now, all the life events and dialogue are fiction and come from many months of research on what happened back then and how people talked and what they did. The historical events happened in real life. As anyone who has read any books I've written which takes place in bygone eras, they will know that I never change historically known elements. I weave my stories around the confirmed history.
From time to time, I will post first draft excerpts. These drafts are not the end result, but show which direction I'm heading, even though some or most might change. This is the first time I've allowed pre-published drafts, so constructive critique is welcome. Please, I am a writer and human being, and not open to hatred of any kind. All the historical events depicted are true, and if you need to correct, please understand the history before doing so. If you know of some elements you believe would enhance this story, please send me a private message through Facebook. (https://www.facebook.com/currentsofwar/)
Please sign up here, or on Facebook for this novel. All early fans will get a special price.